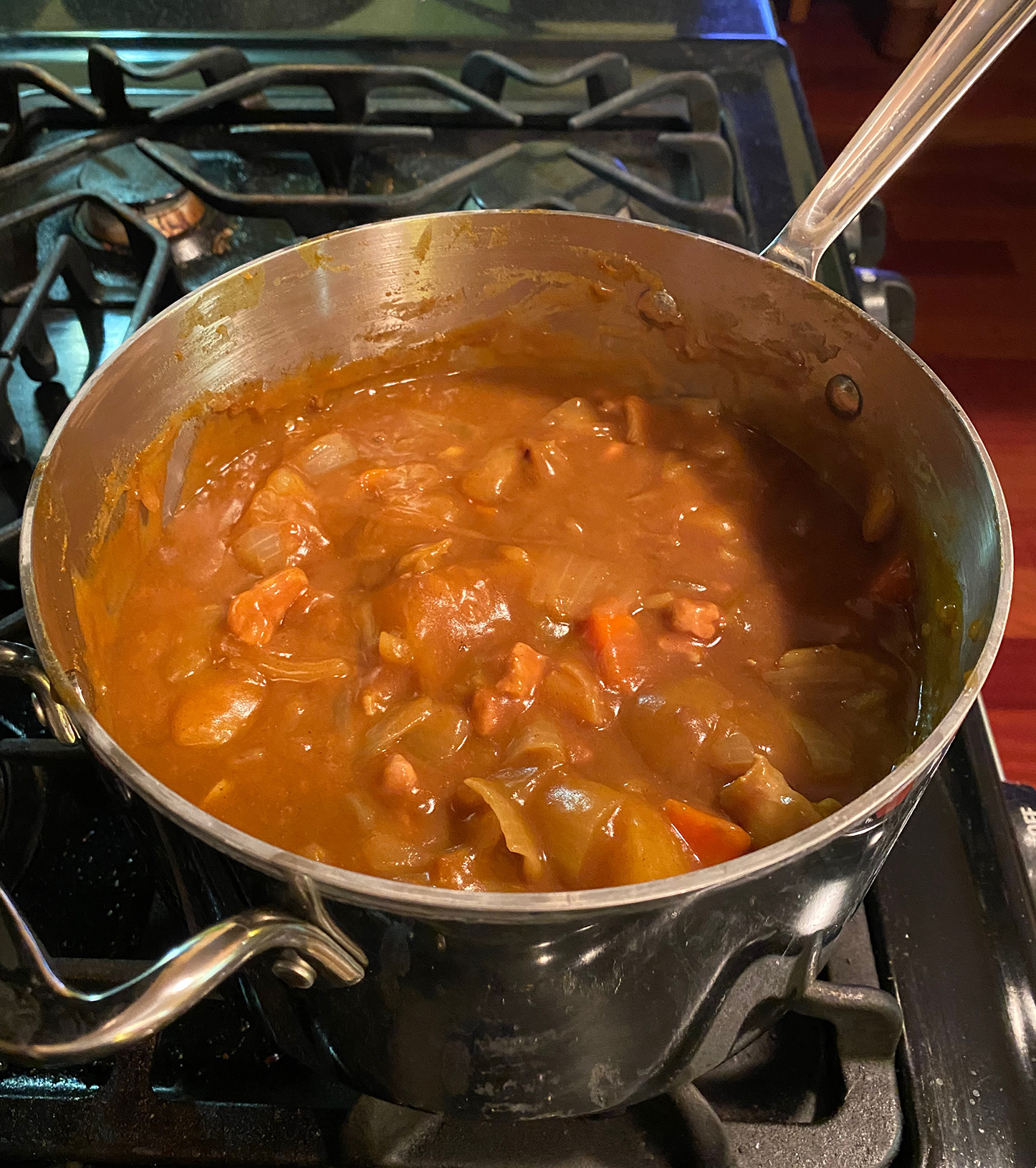 Curry Chicken and Rice
time from prep to serve is about 2 hours
1.5 lbs of boneless dark chicken
2 onions
2 carrots
3 yukon gold potatoes
1 apple
2 cloves garlic
1 knob of ginger (1 tsp when grated)
4 cups chicken stock
honey 1 tbsp
soy sauce 1 tbsp
ketchup 1 tbsp
curry roux 1 package (I use S&B Golden Curry Hot which is a bit too hot...)
white rice
fukujinzuke 福神漬け
Prep the Ingredients
Cut the onions into wedges.
Cut the carrots rangiri 乱切り style.
Cut the potatoes into eighths and soak for 15 minutes.
Trim excess fat from chicken and cut diagonally 削ぎ切り (sogigiri) style. Salt and pepper the chicken.
Peel, quarter, and grate the apple.
Grate the ginger.
Cooking
Saute the onions in a bit of oil for 5 minutes. Add minced garlic and grated ginger.
Add chicken and cook until pink is gone.
Add chicken stock and apple, honey, soy sauce, and ketchup. Add carrots and potatoes. Simmer covered for 15 minutes. Skim scum off the surface while cooking with a strainer. Keep cooking until a wooden skewer can go through the carrots and potatoes.
Add the curry roux by putting two cubes in a bowl with a ladle of soup broth and dissolving with the help of a spoon before pouring back into the pot. Cook another 5-10 minutes.
Serve with white rice and fukujinzuke.